Apr 6 2023 Reflection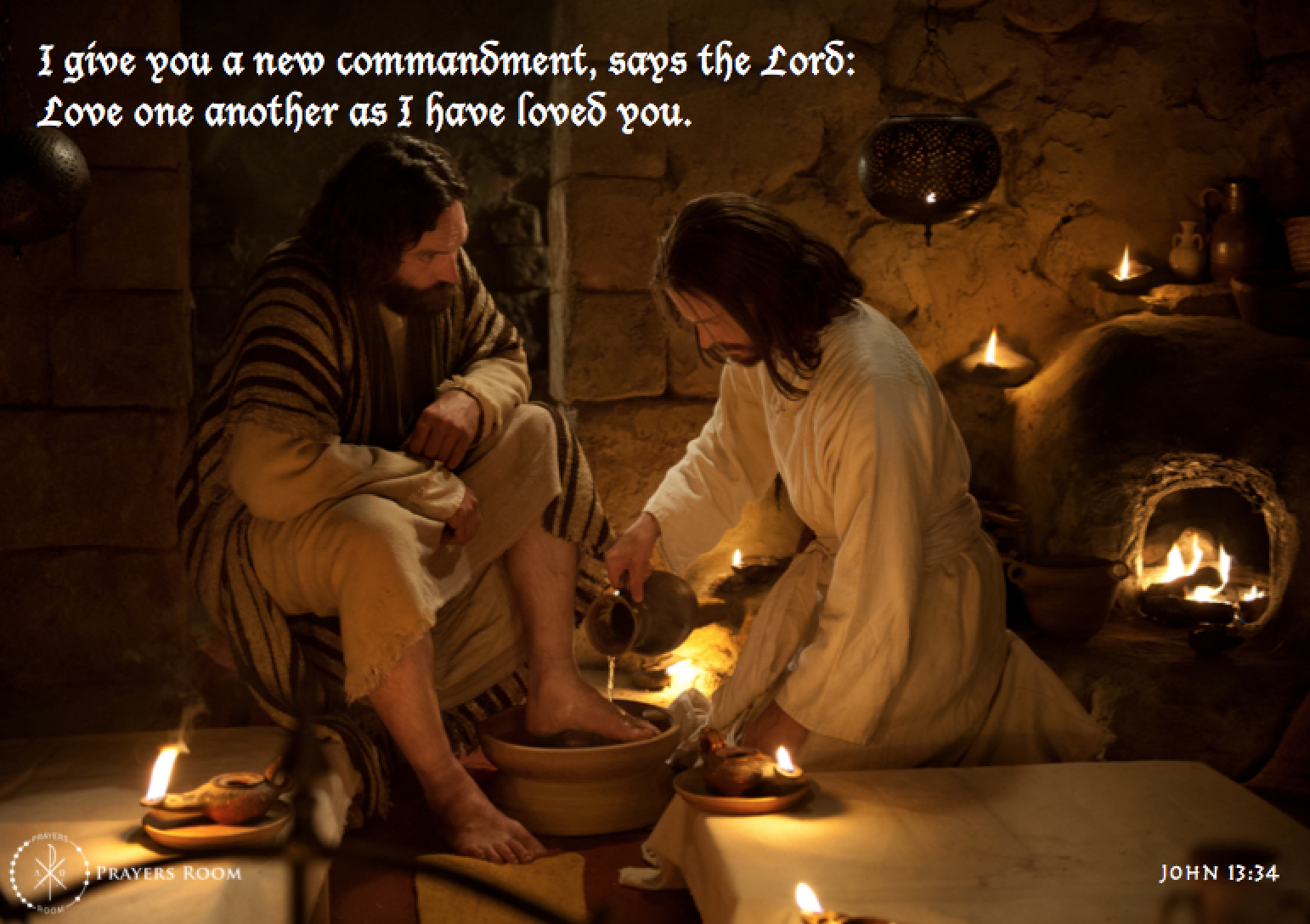 Thursday 6 April 2023
First Reading: Ex 12:1-8, 11-14
Responsorial Psalm:
Our blessing-cup is a communion with the Blood of Christ.
Ps 116:12-13, 15-16bc, 17-18
Second Reading: 1 Cor 11:23-26
Gospel Reading: Jn 13:1-15
Today's Note: Thursday of Holy Week
Gospel Reading:
Before the feast of Passover, Jesus knew that his hour had come
to pass from this world to the Father.
He loved his own in the world and he loved them to the end.
The devil had already induced Judas, son of Simon the Iscariot, to hand him over.
So, during supper,
fully aware that the Father had put everything into his power
and that he had come from God and was returning to God,
he rose from supper and took off his outer garments.
He took a towel and tied it around his waist.
Then he poured water into a basin
and began to wash the disciples' feet
and dry them with the towel around his waist.
He came to Simon Peter, who said to him,
"Master, are you going to wash my feet?"
Jesus answered and said to him,
"What I am doing, you do not understand now,
but you will understand later."
Peter said to him, "You will never wash my feet."
Jesus answered him,
"Unless I wash you, you will have no inheritance with me."
Simon Peter said to him,
"Master, then not only my feet, but my hands and head as well."
Jesus said to him,
"Whoever has bathed has no need except to have his feet washed,
for he is clean all over;
so you are clean, but not all."
For he knew who would betray him;
for this reason, he said, "Not all of you are clean."
So when he had washed their feet
and put his garments back on and reclined at table again,
he said to them, "Do you realize what I have done for you?
You call me 'teacher' and 'master,' and rightly so, for indeed I am.
If I, therefore, the master and teacher, have washed your feet,
you ought to wash one another's feet.
I have given you a model to follow,
so that as I have done for you, you should also do."
Reflection:
Does your love waver when you encounter bitter disappointments and injury from others? As Jesus' hour of humiliation draws near he reveals to his disciples the supreme humility which shaped the love he had for them. He stoops to perform a menial task reserved for servants – the washing of smelly, dirty feet. In stooping to serve his disciples Jesus knew he would be betrayed by one of them and that the rest would abandon him through fear and disloyalty. Such knowledge could have easily led to bitterness or hatred. Jesus met the injury of betrayal and disloyalty with the greatest humility and supreme love.

Let the love of Christ rule in your heart and actions
Jesus loved his disciples to the very end, even when they failed him and forsook him. The Lord loves each of us freely and unconditionally. His love has power to set us free to love and serve others with Christ-like compassion and humility. Paul the Apostle tells us that Christ's gift of love has been poured into our hearts through the Holy Spirit who dwells in us (Romans 5:5 and 8:35-39). Does the love of Christ rule in your heart, thoughts, intentions and actions?

The love of Christ conquers all and never fails
Saint Augustine of Hippo (354-430 AD) in his sermon for Holy Thursday wrote:
"He had the power of laying down his life; we by contrast cannot choose the length of our lives, and we die even if it is against our will. He, by dying, destroyed death in himself; we are freed from death only in his death. His body did not see corruption; our body will see corruption and only then be clothed through him in incorruption at the end of the world. He needed no help from us in saving us; without him we can do nothing. He gave himself to us as the vine to the branches; apart from him we cannot have life.

Finally, even if brothers die for brothers, yet no martyr by shedding his blood brings forgiveness for the sins of his brothers, as Christ brought forgiveness to us. In this he gave us, not an example to imitate but a reason for rejoicing. Inasmuch, then, as they shed their blood for their brothers, the martyrs provided "the same kind of meal" as they had received at the Lord's table. Let us then love one another as Christ also loved us and gave himself up for us."
Lord Jesus, your love conquers all and never fails. Help me to love others freely, with heart-felt compassion, kindness and goodness. Where there is injury, may I sow peace rather than strife.