Daily Reflection – Jan 10, 2016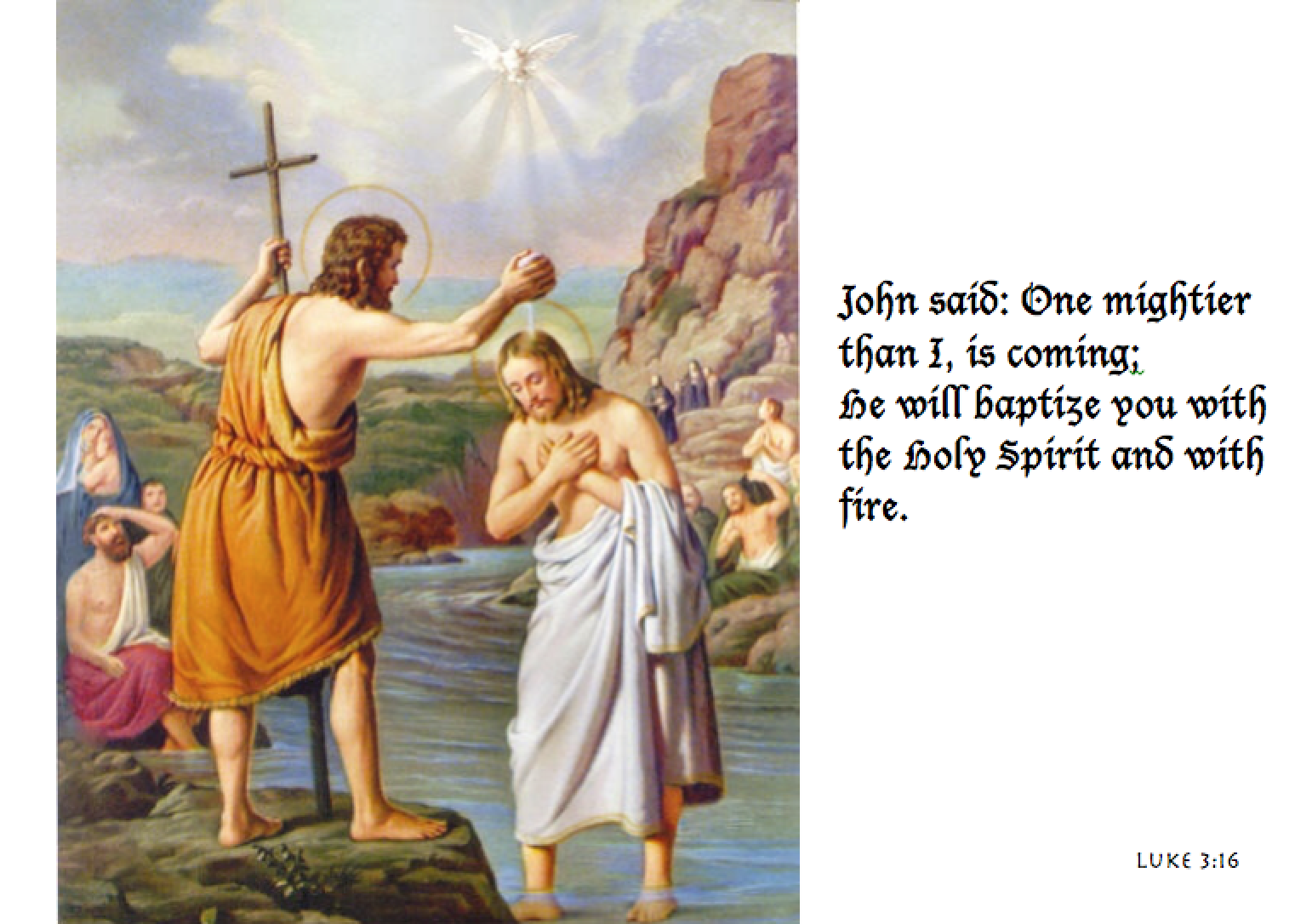 Sunday 10 January 2016
First Reading: Isaiah 40:1-5, 9-11
Responsorial Psalm:
O bless the Lord, my soul
Psalm 103(102):1-4, 24-25, 27-30
Second Reading: Titus 2:11-14; 3:4-7
Gospel Reading: Luke 3:15-16, 21-22
Today's Feast: The Baptism of the Lord
Gospel Reading:
The people were filled with expectation,
and all were asking in their hearts
whether John might be the Christ.
John answered them all, saying,
"I am baptizing you with water,
but one mightier than I is coming.
I am not worthy to loosen the thongs of his sandals.
He will baptize you with the Holy Spirit and fire."
After all the people had been baptized
and Jesus also had been baptized and was praying,
heaven was opened and the Holy Spirit descended upon him
in bodily form like a dove.
And a voice came from heaven,
"You are my beloved Son;
with you I am well pleased."
Reflection:
He will baptize you with the Holy Spirit. (Luke 3:16)
When we think about the baptism of Jesus, three different baptisms come to mind: his baptism in the Jordan River, his baptism on the cross, and his desire to baptize us in his Holy Spirit.
First, when he was baptized by John, Jesus showed how deeply he wanted to be joined with all of us, sinners though we are. As St. Paul explained, Jesus became sin for us so that in him "we might become the righteousness of God" (2 Corinthians 5:21). Through his baptism, he took on our sin and carried it with him until the day of his death on the cross.
Second, there is Jesus' baptism on the cross. He once told his disciples, "There is a baptism with which I must be baptized, and how great is my anguish until it is accomplished!" (Luke 12:50). When James and John wanted Jesus to guarantee them a special place in heaven, he replied: "Can you … be baptized with the baptism with which I am baptized?" (Mark 10:38). He knew that his cross was the culmination of everything that his baptism in water began. All the sin that he accepted was put to death, and we were redeemed!
But it doesn't end at the cross. Third, Scripture tells us that Jesus now wants to baptize all of us "with the Holy Spirit" (Luke 3:16). He wants to share the fruit of his baptism with us by immersing us in his Holy Spirit—just as he baptized the first apostles on Pentecost.
Today's feast is an invitation for us to ask, "Do I know the freedom from sin that Jesus' baptism won for me?" It's also an invitation to ask, "How well do I know the Holy Spirit?" Just as the Spirit came upon him when he was baptized, this same Spirit wants to come upon us and empower us to live a godly life.
"Thank you, Jesus, for being baptized for me. Now come and fill me with your Spirit!"