Apr 19 2020 Reflection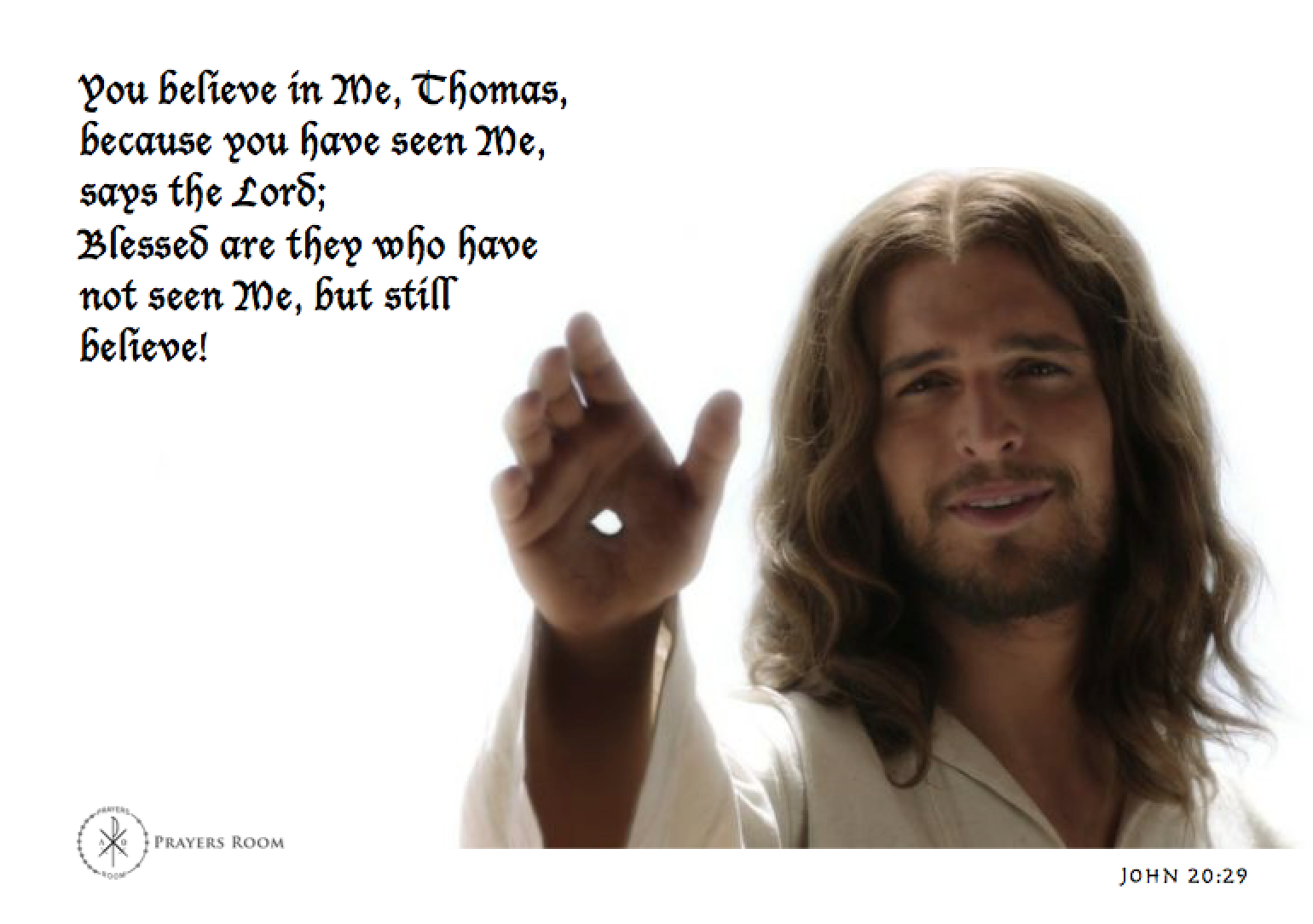 Sunday 19 April 2020
First Reading: ACTS 2:42-47
Responsorial Psalm:
Give thanks to the LORD, for he is good, his love is everlasting.
PS 118:2-4, 13-15, 22-24
Second Reading: 1 PT 1:3-9
Gospel Reading: JN 20:19-31
Today's Note: Second Sunday of Easter (or Sunday of Divine Mercy)
Gospel Reading:
On the evening of that first day of the week,
when the doors were locked, where the disciples were,
for fear of the Jews,
Jesus came and stood in their midst
and said to them, "Peace be with you."
When he had said this, he showed them his hands and his side.
The disciples rejoiced when they saw the Lord.
Jesus said to them again, "Peace be with you.
As the Father has sent me, so I send you."
And when he had said this, he breathed on them and said to them,
"Receive the Holy Spirit.
Whose sins you forgive are forgiven them,
and whose sins you retain are retained."
Thomas, called Didymus, one of the Twelve,
was not with them when Jesus came.
So the other disciples said to him, "We have seen the Lord."
But he said to them,
"Unless I see the mark of the nails in his hands
and put my finger into the nailmarks
and put my hand into his side, I will not believe."
Now a week later his disciples were again inside
and Thomas was with them.
Jesus came, although the doors were locked,
and stood in their midst and said, "Peace be with you."
Then he said to Thomas, "Put your finger here and see my hands,
and bring your hand and put it into my side,
and do not be unbelieving, but believe."
Thomas answered and said to him, "My Lord and my God!"
Jesus said to him, "Have you come to believe because you have seen me?
Blessed are those who have not seen and have believed."
Now, Jesus did many other signs in the presence of his disciples
that are not written in this book.
But these are written that you may come to believe
that Jesus is the Christ, the Son of God,
and that through this belief you may have life in his name.
Reflection:
Jesus came . . . and stood in their midst. (John 20:26)
Jesus had appeared to the disciples on Easter Sunday. So why did he come a week later to the exact same place? Perhaps it was because this time Thomas was there, and Jesus wanted to convince this doubt-ridden disciple that he had truly risen from the dead.
Jesus could have stayed away, but he didn't want to leave Thomas in that state. So he invited Thomas to touch his wounds and see that it was really him. And that act of compassion and patience—that act of mercy—led Thomas to proclaim, "My Lord and my God!" (John 20:28). Eventually, that mercy would lead Thomas to travel far and wide proclaiming the gospel and, in the end, give his life for his Lord.
Thomas' story shows us that God's mercy involves more than just the forgiveness of our sins, great as that is. It also involves his compassion for our weakness and his patience with our slow progress. It's a wide mercy that frees us from our doubts, fears, and guilt as well as our sin. Like Thomas, it allows us to experience Jesus' divine life more fully so that we can follow him wherever he leads us.
In the end, God's mercy cannot be separated from his love. He is love and he is mercy—that is his very nature. Every day Jesus comes and stands in our midst, desiring to show us that he is our Lord and God. Every day he wants to take away our doubts and fears and forgive our every sin. Every day he wants to open us to more of his life and blessings.
Don't ever underestimate the power of divine mercy! As you continue to read from the Book of Acts this Easter season, know that every miracle the apostles did, every word they spoke, was grounded in the mercy they had first received—and continued receiving to the end of their lives. God's mercy is the foundation of your life too, a mercy that is new every morning, a mercy that will never, ever end (Lamentations 3:22-23)!
"Jesus, I trust in you!"