Daily Reflection – Apr 8, 2018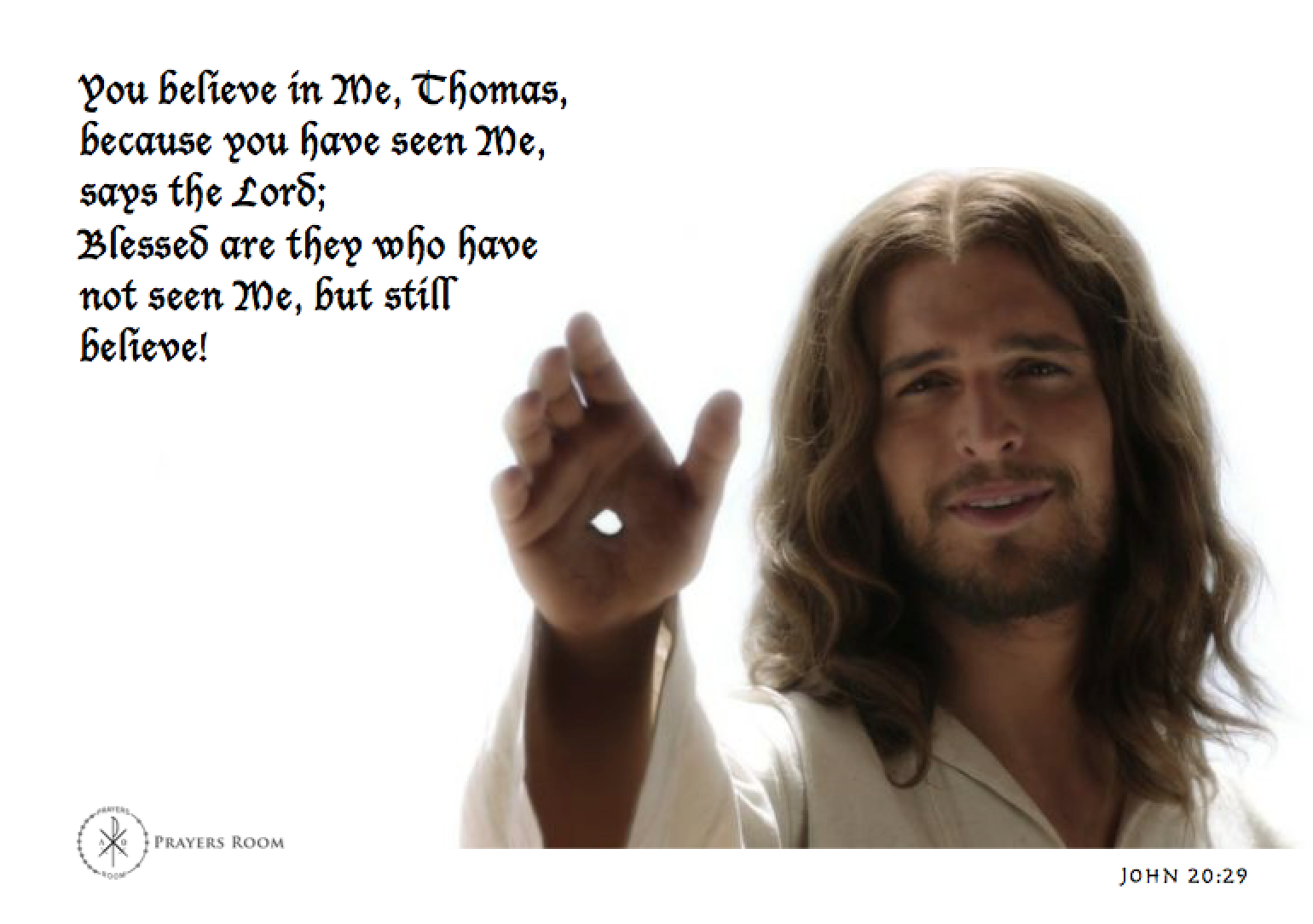 Sunday 8 April 2018
First Reading: ACTS 4:32-35
Responsorial Psalm:
Give thanks to the LORD, for he is good, his love is everlasting.
PS 118:2-4, 13-15, 22-24
Second Reading: 1 JN 5:1-6
Gospel Reading: JN 20:19-31
Today's Note: Second Sunday of Easter
(Or Sunday of Divine Mercy)
Gospel Reading:
On the evening of that first day of the week,
when the doors were locked, where the disciples were,
for fear of the Jews,
Jesus came and stood in their midst
and said to them, "Peace be with you."
When he had said this, he showed them his hands and his side.
The disciples rejoiced when they saw the Lord.
Jesus said to them again, "Peace be with you.
As the Father has sent me, so I send you."
And when he had said this, he breathed on them and said to them,
"Receive the Holy Spirit.
Whose sins you forgive are forgiven them,
and whose sins you retain are retained."
Thomas, called Didymus, one of the Twelve,
was not with them when Jesus came.
So the other disciples said to him, "We have seen the Lord."
But he said to them,
"Unless I see the mark of the nails in his hands
and put my finger into the nailmarks
and put my hand into his side, I will not believe."
Now a week later his disciples were again inside
and Thomas was with them.
Jesus came, although the doors were locked,
and stood in their midst and said, "Peace be with you."
Then he said to Thomas, "Put your finger here and see my hands,
and bring your hand and put it into my side,
and do not be unbelieving, but believe."
Thomas answered and said to him, "My Lord and my God!"
Jesus said to him, "Have you come to believe because you have seen me?
Blessed are those who have not seen and have believed."
Now Jesus did many other signs in the presence of his disciples
that are not written in this book.
But these are written that you may come to believe
that Jesus is the Christ, the Son of God,
and that through this belief you may have life in his name.
Reflection:
Peace be with you. (John 20:19)
It's tempting to stay shortsighted when we think about these words of Jesus to his apostles. It's tempting to link our peace with the events of our day. If things are going well, we are at peace. But the moment one of life's trials comes along, we lose our peace.
Jesus experienced all of the emotions we experience, both the good and the bad. He showed love and tenderness to a woman who washed his feet. He showed disappointment with the Pharisees who flaunted their religiosity. He was especially compassionate toward the crowds that followed him, and he was surprisingly angry with the money changers in the Temple. He applauded people's generosity, and he hated to see anyone suffering.
Yet for all of these different emotions, one thing remained constant: Jesus always held on to his peace. That's because the peace that Jesus had was not about things going his way. His peace was about knowing that his Father was always with him and that God would always be faithful to his promises.
It's ironic, isn't it? We can lose our peace, not only when things go wrong, but even when things are going our way. We can forget about God. We can begin to rely only on ourselves and end up feeling proud and self-righteous. And this kind of self-reliance can lead to a downward spiral of agitation and insecurity.
The peace that God offers us is rooted in knowing that we are loved by him, forgiven by him, and saved by him. So when things are going your way, be sure to remain peaceful by thanking God for all of your blessings. And when you are feeling angry, resentful, or bitter, take those feelings to the Lord and ask him to help you.
Love everyone. Seek what is best and just for everyone. Seek the Lord each day, and he will help you "let the peace of Christ control your hearts" in every situation (Colossians 3:15).
"Lord, help me to hold on to your peace at all times and in every situation."