Daily Reflection – Sep 13, 2016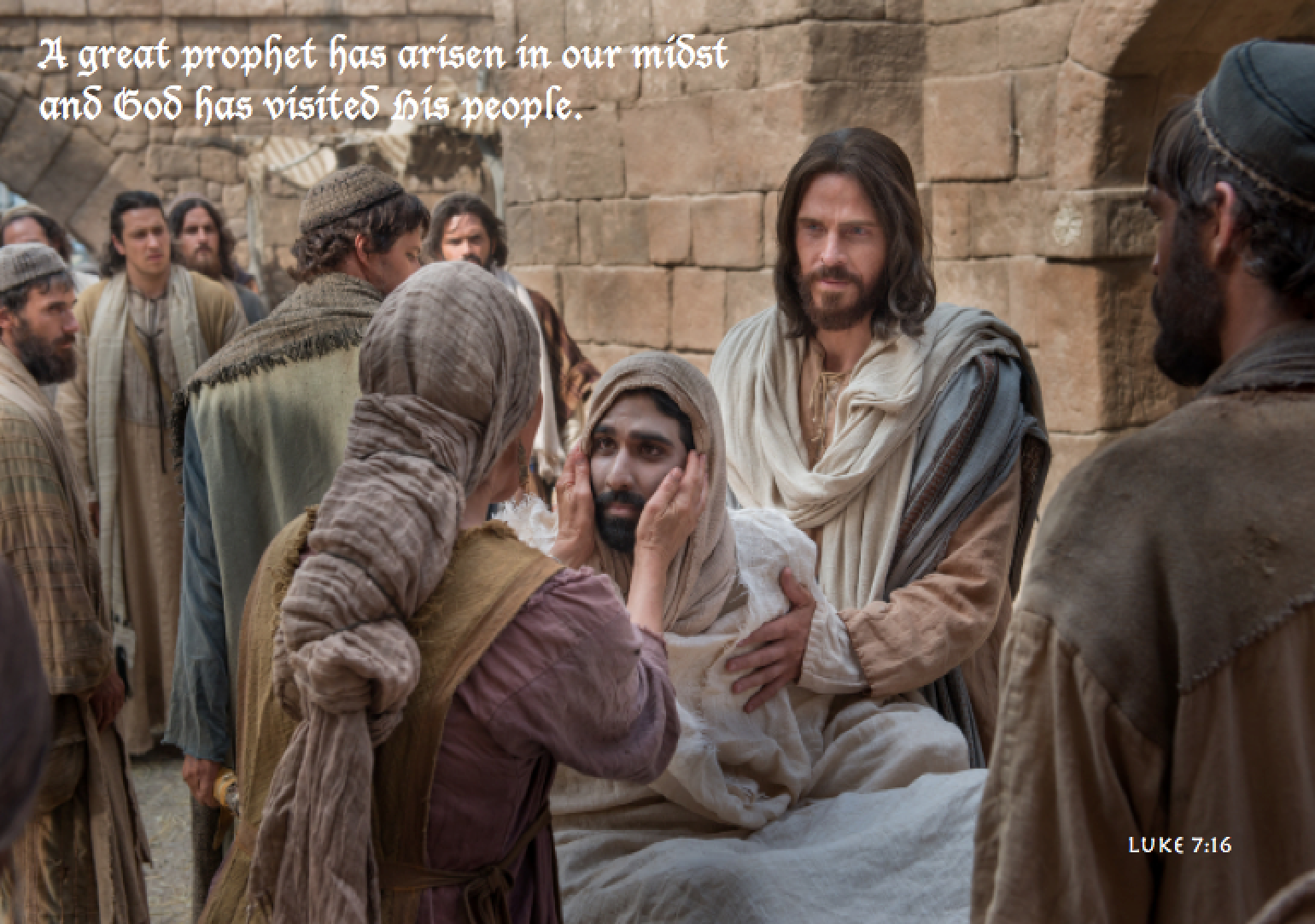 Tuesday 13 September 2016
First Reading: 1 Corinthians 12:12-14, 27-31
Responsorial Psalm:
We are his people: the sheep of his flock
Psalm 99(100)
Gospel Reading: Luke 7:11-17
Today's Saint: St John Chrysostom, Bishop and Doctor of the Church
Gospel Reading:
Jesus journeyed to a city called Nain,
and his disciples and a large crowd accompanied him.
As he drew near to the gate of the city,
a man who had died was being carried out,
the only son of his mother, and she was a widow.
A large crowd from the city was with her.
When the Lord saw her,
he was moved with pity for her and said to her,
"Do not weep."
He stepped forward and touched the coffin;
at this the bearers halted,
and he said, "Young man, I tell you, arise!"
The dead man sat up and began to speak,
and Jesus gave him to his mother.
Fear seized them all, and they glorified God, exclaiming,
"A great prophet has arisen in our midst,"
and "God has visited his people."
This report about him spread through the whole of Judea
and in all the surrounding region.
Reflection:
He stepped forward and touched the coffin; at this the bearers halted. (Luke 7:14)
Did you know that this is the only time that the city of Nain is mentioned in the Bible? It's also one of the few times Luke notes the location of an event. Some believe that the city was about six miles southeast of Nazareth, at the foot of Little Hermon mountain, but no one is certain.
We may not know exactly where Nain is, but Jesus knew. He also knew what he would do when he got there: bring life.
Try something different with this reading today. Imagine yourself coming to the city gate with Jesus. The funeral procession approaches, and he sees the grieving widow surrounded by mourners. Jesus walks up to the coffin, and they stop. Surely they have heard about him and the wonders he is performing. A sense of anticipation hangs in the air.
Now picture the tenderness on Jesus' face as he turns to the widow and says, "Do not weep" (Luke 7:13). His mere presence brings a sense of hope. Then with a simple command, he calls the young man back to life.
Finally, imagine Jesus walking into your little town, into your life. He knows exactly where you are and what you need. He touches your circumstances, your weaknesses, and your failings. Take a moment to stop and wait. There is healing, deliverance, and restoration in his presence. He looks at you, and he says, "Arise!" (Luke 7:14).
Things may be noisy around you, as they were in the widow's grief-stricken procession. Maybe you are rushing from task to task, but then you suddenly remember that God is with you. Maybe as your emotions are rising in frustration, you recall his patient love. Or perhaps your children are being disruptive at Mass, but then you feel gratitude welling up in your heart, and you are able to refocus on the Lord. Any of these things can be the touch of Jesus. When you feel this internal shift, stop and allow his presence to fill you. Let him touch you and bring new life.
"Thank you, Jesus, for pursuing me. I welcome you into my life and ask you to touch the parts of me that need to be set free."