Mar 31 2019 Reflection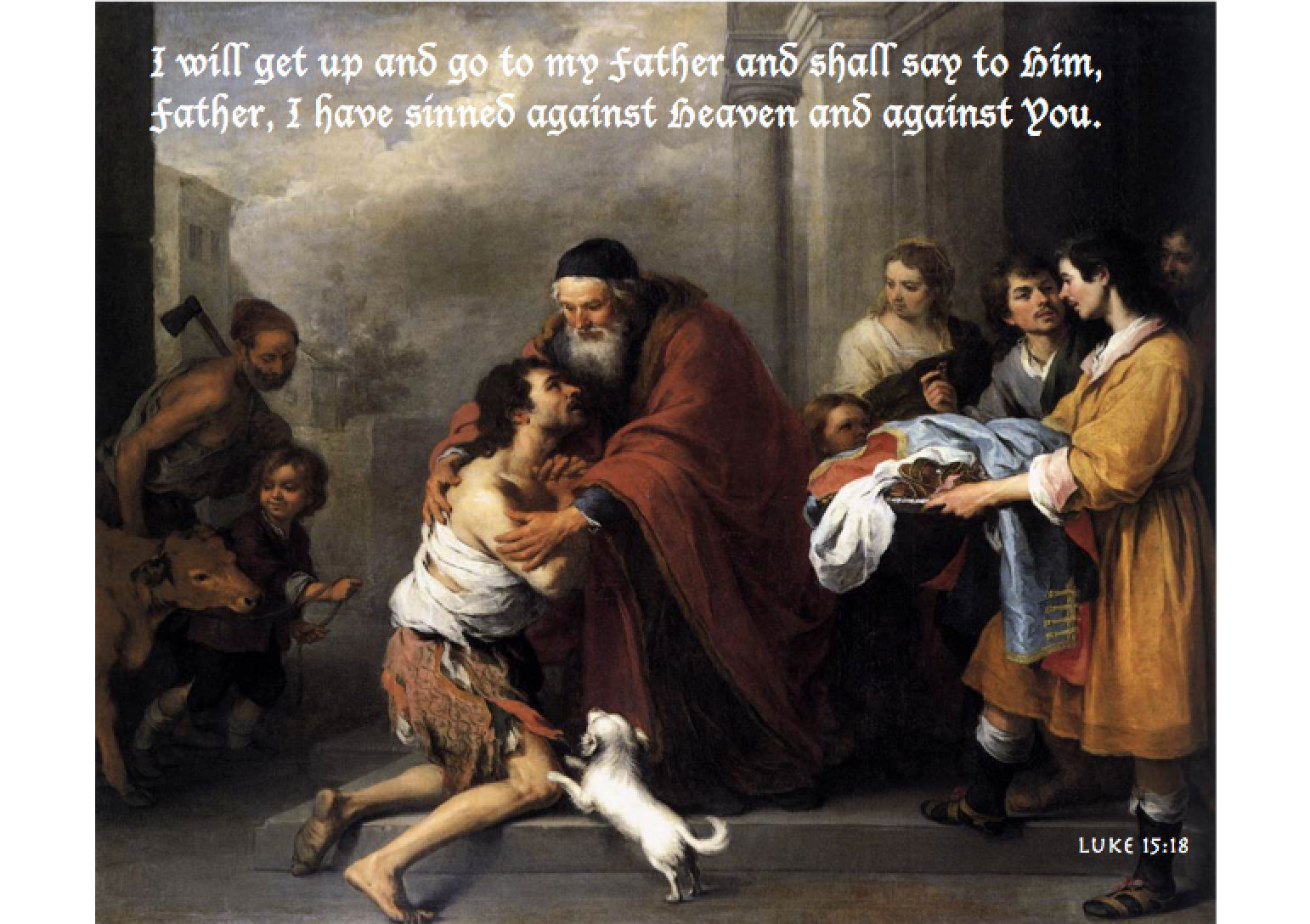 Sunday 31 March 2019
First Reading: JOS 5:9A, 10-12
Responsorial Psalm:
Taste and see the goodness of the Lord.
PS 34:2-3, 4-5, 6-7
Second Reading: 2 COR 5:17-21
Gospel Reading: LK 15:1-3, 11-32
Today's Note: Fourth Sunday of Lent
Gospel Reading:
Tax collectors and sinners were all drawing near to listen to Jesus,
but the Pharisees and scribes began to complain, saying,
"This man welcomes sinners and eats with them."
So to them Jesus addressed this parable:
"A man had two sons, and the younger son said to his father,
'Father give me the share of your estate that should come to me.'

So the father divided the property between them.
After a few days, the younger son collected all his belongings
and set off to a distant country
where he squandered his inheritance on a life of dissipation.
When he had freely spent everything,
a severe famine struck that country,
and he found himself in dire need.
So he hired himself out to one of the local citizens
who sent him to his farm to tend the swine.
And he longed to eat his fill of the pods on which the swine fed,
but nobody gave him any.
Coming to his senses he thought,
'How many of my father's hired workers
have more than enough food to eat,
but here am I, dying from hunger.
I shall get up and go to my father and I shall say to him,
"Father, I have sinned against heaven and against you.
I no longer deserve to be called your son;
treat me as you would treat one of your hired workers."'
So he got up and went back to his father.
While he was still a long way off,
his father caught sight of him, and was filled with compassion.
He ran to his son, embraced him and kissed him.
His son said to him,
'Father, I have sinned against heaven and against you;
I no longer deserve to be called your son.'
But his father ordered his servants,
'Quickly bring the finest robe and put it on him;
put a ring on his finger and sandals on his feet.
Take the fattened calf and slaughter it.
Then let us celebrate with a feast,
because this son of mine was dead, and has come to life again;
he was lost, and has been found.'
Then the celebration began.
Now the older son had been out in the field
and, on his way back, as he neared the house,
he heard the sound of music and dancing.
He called one of the servants and asked what this might mean.
The servant said to him,
'Your brother has returned
and your father has slaughtered the fattened calf
because he has him back safe and sound.'
He became angry,
and when he refused to enter the house,
his father came out and pleaded with him.
He said to his father in reply,
'Look, all these years I served you
and not once did I disobey your orders;
yet you never gave me even a young goat to feast on with my friends.
But when your son returns
who swallowed up your property with prostitutes,
for him you slaughter the fattened calf.'
He said to him,
'My son, you are here with me always;
everything I have is yours.
But now we must celebrate and rejoice,
because your brother was dead and has come to life again;
he was lost and has been found.'"
Reflection:
This man welcomes sinners. (Luke 15:2)
Isn't it ironic that this story, which is one of the best loved in all of Scripture, has a somewhat misleading title? Rather than calling it the parable of the prodigal son, we should call it the parable of the forgiving father. This is not a story only about one son. It's a story about two sons and their father. And as a parable, this story tells us about our heavenly Father's infinite love for us.
The parable of the prodigal son has two distinct goals: it shows us that God wants everyone to know his love, and it shows us that God wants those who know his love to experience it more deeply.
In a sense, the prodigal son was "dead" because of the sins he had committed when he was away from home. But the moment he came back, it's as if he had come back to life. Jesus used this fellow to describe people who have not accepted the love that God has for them. They need to turn and come home to him. They need what we would call an "initial conversion."
These are the people God asks us to lift up in prayer in a special way—especially our loved ones who are far from the Lord. May they all experience an initial conversion!
The prodigal son's older brother, however, was already "alive." He was faithful and hardworking. But he also needed a conversion. He may have been obedient to his father, but a lot of sinful thoughts still occupied his mind. This fellow needed "ongoing conversion," a deeper turning away from his habits of resentment, anger, and self-righteousness.
Even if we believe in Jesus, pray every day, and go to Mass regularly, we still need ongoing conversion. We can be trying our best to live good lives and to care for our families. But we can fall into judgmental, self-righteous, self-centered ways of thinking. And so God asks us to keep turning to him for help and healing.
God welcomes home everyone who comes to him. No matter how big or small our sins, he is always waiting with open arms.
"Thank you, Father, for welcoming me home."