Aug 11 2020 Reflection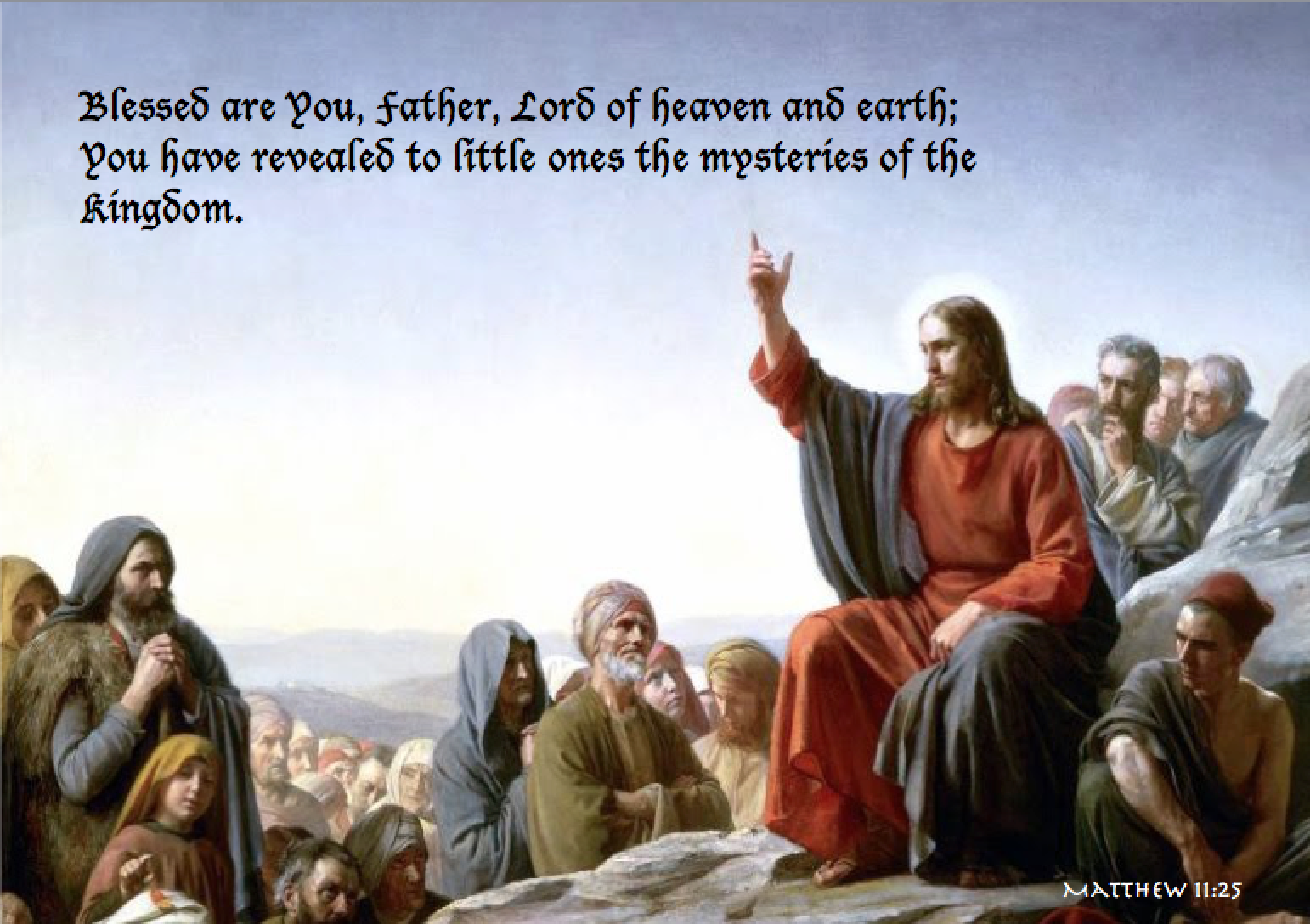 Tuesday 11 August 2020
First Reading: EZ 2:8—3:4
Responsorial Psalm:
How sweet to my taste is your promise!
PS 119:14, 24, 72, 103, 111, 131
Gospel Reading: MT 18:1-5, 10, 12-14
Today's Note: Memorial of Saint Clare, Virgin
Gospel Reading:
The disciples approached Jesus and said,
"Who is the greatest in the Kingdom of heaven?"
He called a child over, placed it in their midst, and said,
"Amen, I say to you, unless you turn and become like children,
you will not enter the Kingdom of heaven.
Whoever becomes humble like this child
is the greatest in the Kingdom of heaven.
And whoever receives one child such as this in my name receives me.
"See that you do not despise one of these little ones,
for I say to you that their angels in heaven
always look upon the face of my heavenly Father.
What is your opinion?
If a man has a hundred sheep and one of them goes astray,
will he not leave the ninety-nine in the hills
and go in search of the stray?
And if he finds it, amen, I say to you, he rejoices more over it
than over the ninety-nine that did not stray.
In just the same way, it is not the will of your heavenly Father
that one of these little ones be lost."
Reflection:
I ate it, and it was as sweet as honey in my mouth. (Ezekiel 3:3)
We've always told our children to swallow their medicine, no matter how bad it tastes, because we know it's good for them. But even so, how can we explain Ezekiel's vision?
The Lord gives him a scroll with nothing but "lamentation and wailing and woe" written all over it and tells him to eat it (Ezekiel 2:10; 3:1). When he does, it becomes "sweet as honey" in his mouth (3:3). Knowing that Ezekiel is told to prophesy judgment on Israel, we might wonder what God is up to here!
The Lord certainly didn't want Ezekiel to gloat about delivering a harsh message, and neither did God take any pleasure in it. He never rejoices in our sins or the consequences they bring about. No, whenever he warns, rebukes, or chastises us, it is always because he wants to heal us and restore us. His one central goal is to bring us back to himself—and he often uses his word to do it.
We have all felt the bitter effects of sin in our lives. However, we can counteract those effects by letting God's word transform us. Sometimes that word is like an antiseptic that stings. "Sharper than any two-edged sword," it can penetrate our defenses and reveal issues we might not want to face (Hebrews 4:12). But when we accept God's word and apply it to our situation, it brings us only goodness. The writer of Proverbs tells us that the Scriptures are "life to those who find them, bringing health to one's whole being" (Proverbs 4:22).
There is nothing better for us than the medicine of God's word—and it's absolutely free! But for it to take effect in our lives, we need to make it our own by digesting it every day. That means not only reading it but letting it soak into us. His word will give us the joy, strength, and peace we need to live in him. Then we can become his word of gentleness and mercy, blessing others through what we say and do.
"Father, thank you for sending me your word. Help me to read it every day so that it sinks deep into my heart."