Daily Reflection – Aug 6, 2017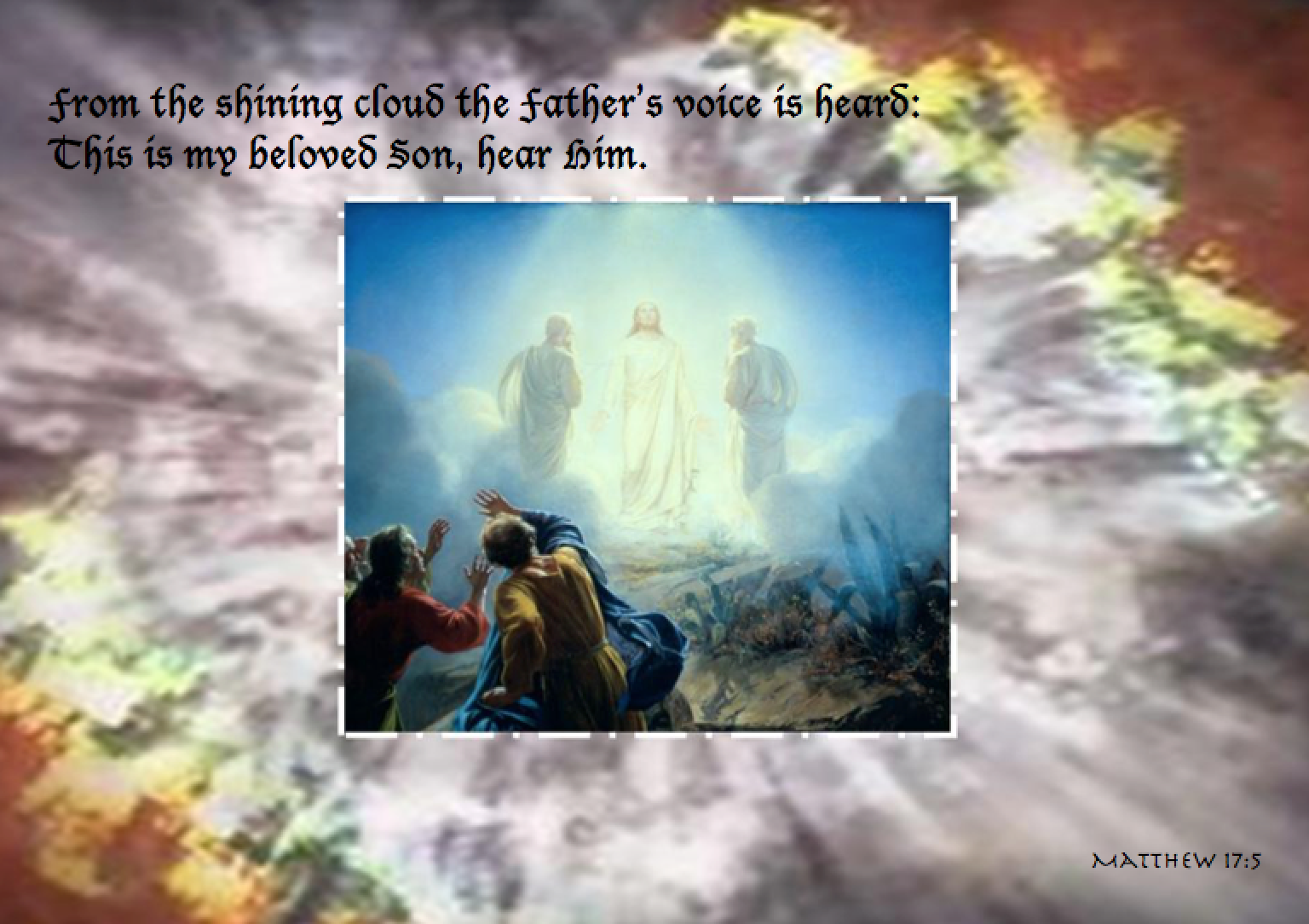 Sunday 6 August 2017
First Reading:Daniel 7:9-10, 13-14
Responsorial Psalm:
The Lord is king, the Most High over all the earth.
Psalm 97:1-2, 5-6, 9
Second Reading: 2 Peter 1:16-19
Gospel Reading: Matthew 17:1-9
Today's Feast: Transfiguration of the Lord
Gospel Reading:
Jesus took Peter, James, and his brother, John,
and led them up a high mountain by themselves.
And he was transfigured before them;
his face shone like the sun
and his clothes became white as light.
And behold, Moses and Elijah appeared to them,
conversing with him.
Then Peter said to Jesus in reply,
"Lord, it is good that we are here.
If you wish, I will make three tents here,
one for you, one for Moses, and one for Elijah."
While he was still speaking, behold,
a bright cloud cast a shadow over them,
then from the cloud came a voice that said,
"This is my beloved Son, with whom I am well pleased;
listen to him."
When the disciples heard this, they fell prostrate
and were very much afraid.
But Jesus came and touched them, saying,
"Rise, and do not be afraid."
And when the disciples raised their eyes,
they saw no one else but Jesus alone.
As they were coming down from the mountain,
Jesus charged them,
"Do not tell the vision to anyone
until the Son of Man has been raised from the dead."
Reflection:
He was transfigured before them. (Matthew 17:2)
A radiant Messiah, an out-of-body experience, time-traveling superstars from the past, and talking clouds—the transfiguration is one of the most memorable stories in Scripture. We know this story: Jesus takes Peter, James, and John up the mountain, where he is transfigured right before their eyes.
So often, we approach growing in our faith as something we have to do. We say, "I need to be more kind and generous to people, especially to the poor. I need to get to Mass more often." To a certain extent, this is true. Growing in faith does require a change in the way we think and act. But that is only part of it.
There is another side to the equation—God's side. We need his grace. And that grace can move mountains! At the transfiguration, Jesus, the divine Son of God, wanted to give his disciples a glimpse of his glory before he entered into his passion. He wanted to help them grow in their faith, just as he wants to help us.
The mystics of the Church, saints like Bernard of Clairvaux, Catherine of Siena, and Teresa of Ávila, remind us that words fail when we perceive even the slightest glimpse of the glory of God. Just as Peter rattled on excitedly, we can find ourselves reaching for the right words to describe what God's presence feels like. But that's okay. Our actions—the witness of our peace and our joy—can speak much louder than our words.
So dwell on this great Mystery of Light today. Imagine the glorified Jesus appearing before you. Let his love, his majesty, and his mercy render you speechless. Let him remind you that your faith is not just a matter of what you have to do. Let him remind you that he is always pouring out divine grace, always revealing his love. And that revelation can soften even the hardest of hearts.
"Jesus, show me your glory."