Mar 8 2020 Reflection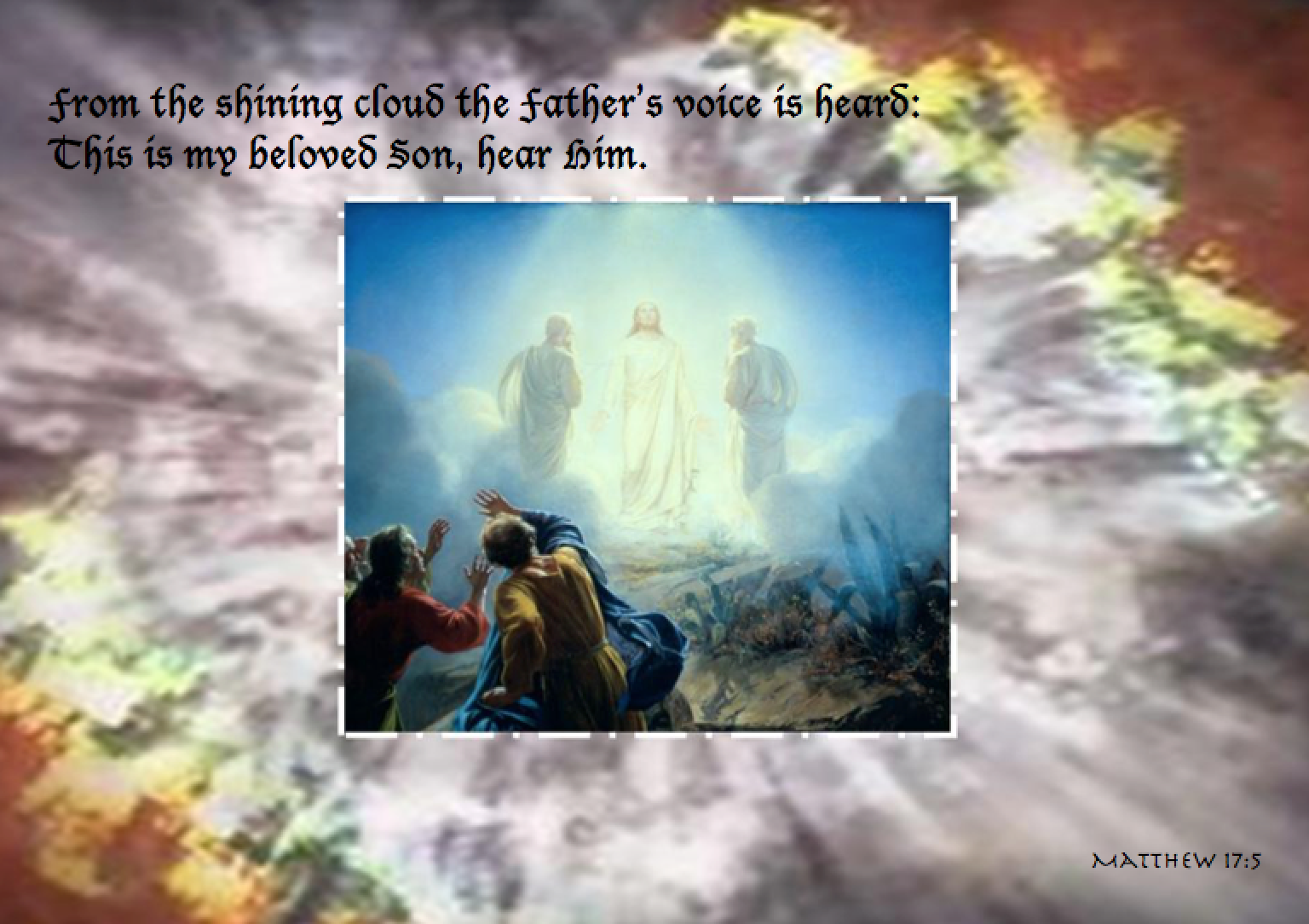 Sunday 8 March 2020
First Reading: GN 12:1-4A
Responsorial Psalm:
Lord, let your mercy be on us, as we place our trust in you.
PS 33:4-5, 18-19, 20, 22
Second Reading: 2 TM 1:8B-10
Gospel Reading: MT 17:1-9
Today's Note: Second Sunday of Lent
Gospel Reading:
Jesus took Peter, James, and John his brother,
and led them up a high mountain by themselves.
And he was transfigured before them;
his face shone like the sun
and his clothes became white as light.
And behold, Moses and Elijah appeared to them,
conversing with him.
Then Peter said to Jesus in reply,
"Lord, it is good that we are here.
If you wish, I will make three tents here,
one for you, one for Moses, and one for Elijah."
While he was still speaking, behold,
a bright cloud cast a shadow over them,
then from the cloud came a voice that said,
"This is my beloved Son, with whom I am well pleased;
listen to him."
When the disciples heard this, they fell prostrate
and were very much afraid.
But Jesus came and touched them, saying,
"Rise, and do not be afraid."
And when the disciples raised their eyes,
they saw no one else but Jesus alone.
As they were coming down from the mountain,
Jesus charged them,
"Do not tell the vision to anyone
until the Son of Man has been raised from the dead."
Reflection:
If you wish, I will make three tents. (Matthew 17:4)
"Three tents? There he goes again," we might think. "It's just Peter making another rash statement and getting it wrong." But did Peter get it wrong?
Not really. Remember that Jesus himself brought Peter to the mountaintop with James and John. Now there they were, watching Moses and Elijah talking with Jesus, who was bathed in his Father's glory. It might not have made perfect sense to Peter, but he knew it was something good. He was so delighted that of course he wanted to pitch some tents and stay.
This "mountaintop" experience must have shored up Peter' faith. He saw the glory of God! He heard God say that Jesus is his beloved Son and that he is worth listening to. All of these things were very good. Did Peter need to go back down the mountain and continue to follow Jesus to the cross? Yes, but that didn't take away his need to be on that mountain—his need to be strengthened and filled.
Jesus is calling you to come away with him to a high mountain too. He is asking you to make time for him every day. Pray. Go to Mass. Ponder his word. Sit in his presence, and be filled with awe and wonder at who he is. But don't stop there. God has a message for you today. He wants to touch your heart and speak to you. Just as Peter heard, "This is my beloved Son" (Matthew 17:5), you can listen for the Holy Spirit to say, "Behold the Lamb of God" when you receive Jesus in Communion. Or "Go in peace to love and serve the Lord" when it's time to come down from the mountain.
Remember, it's not selfish to set aside time to be with Jesus. You're not running away from problems when you take time to pray. It's always good to come away with him—as long as you are willing to follow him out into the world as well.
"Lord, I love you and want to make time for you every day!"