Daily Reflection – Mar 5, 2017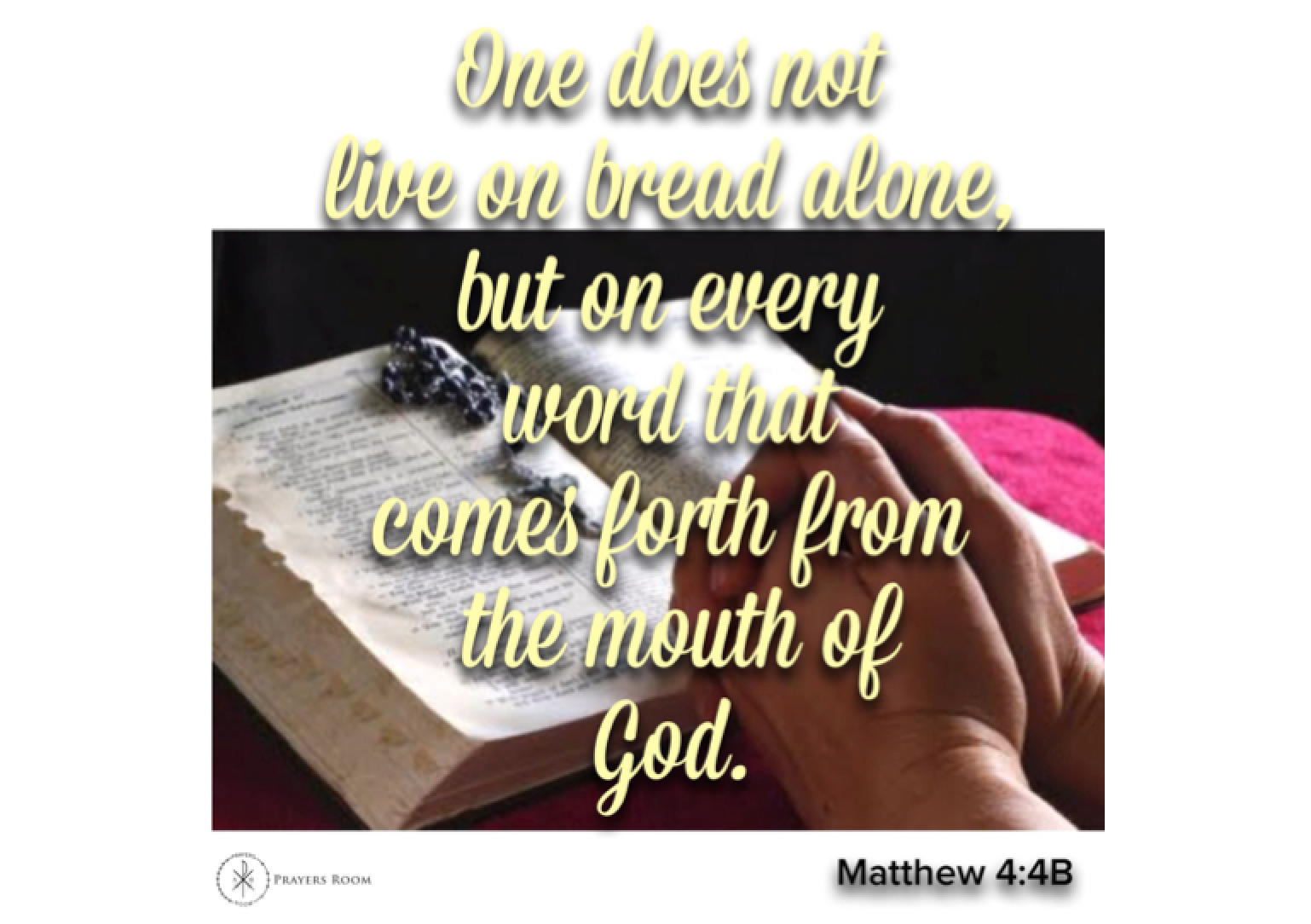 Sunday 5 March 2017
First Reading: Genesis 2:7-9; 3:1-7
Responsorial Psalm:
Be merciful, O Lord, for we have sinned.
Psalm 51:3-4, 5-6, 12-13, 17
Second Reading: Romans 5:12-19
Gospel Reading: Matthew 4:1-11
Today's Note: First Sunday of Lent
Gospel Reading:
At that time Jesus was led by the Spirit into the desert
to be tempted by the devil.
He fasted for forty days and forty nights,
and afterwards he was hungry.
The tempter approached and said to him,
"If you are the Son of God,
command that these stones become loaves of bread."
He said in reply,
"It is written:
One does not live on bread alone,
but on every word that comes forth
from the mouth of God."
Then the devil took him to the holy city,
and made him stand on the parapet of the temple,
and said to him, "If you are the Son of God, throw yourself down.
For it is written:
He will command his angels concerning you
and with their hands they will support you,
lest you dash your foot against a stone."
Jesus answered him,
"Again it is written,
You shall not put the Lord, your God, to the test."
Then the devil took him up to a very high mountain,
and showed him all the kingdoms of the world in their magnificence,
and he said to him, "All these I shall give to you,
if you will prostrate yourself and worship me."
At this, Jesus said to him,
"Get away, Satan!
It is written:
The Lord, your God, shall you worship
and him alone shall you serve."
Then the devil left him and, behold,
angels came and ministered to him.
Reflection:
Jesus was led by the Spirit into the desert to be tempted by the devil. (Matthew 4:1)
Today's readings show us two opposite responses to the temptation to be "like gods" (Genesis 3:5). Our first parents gave in to the serpent's allure, but Jesus didn't. He did what we could not do. Facing every temptation that we face, he clung to his Father and remained free from sin.
Sin is appealing, isn't it? It's also incredibly deceptive, passing itself off as harmless and maybe even good for us. Imagine how the forbidden fruit must have appeared to Eve—"good for food and pleasing to the eyes, and . . . desirable for gaining wisdom" (Genesis 3:6). But that doesn't mean fighting temptation is a hopeless cause. This Lent is a time when our lives can change.
What temptations oppress you the most? A tendency toward irritation or resentment? Selfishness? Jealousy? Choose one, and decide to make some headway in just this one area this Lent.
Here's one of the best ways to do it: think about Jesus in the wilderness, battling hunger and the nagging voice of Satan. Each time he was tempted, Jesus turned to his Father in prayer, even when it was a great effort, even when the truths he clung to felt distant. And his Father didn't abandon him!
God never turns away from us either. He is always ready to help us. That's why Lent is such a vital time. It's our chance to change directions and cling to the Lord and his word. It's our chance to say no to the temptations we face and turn back to our heavenly Father.
When you do this, it will make a difference in your relationship with God. But it will also change the world. Think about the ripple effects of millions of people turning away from the snares of the devil and welcoming God more deeply into their lives! Come Easter, families will be stronger, and faith will be deeper.
"Jesus, show me what is tempting me, and help me turn back to the Father."