May 31 2021 Reflection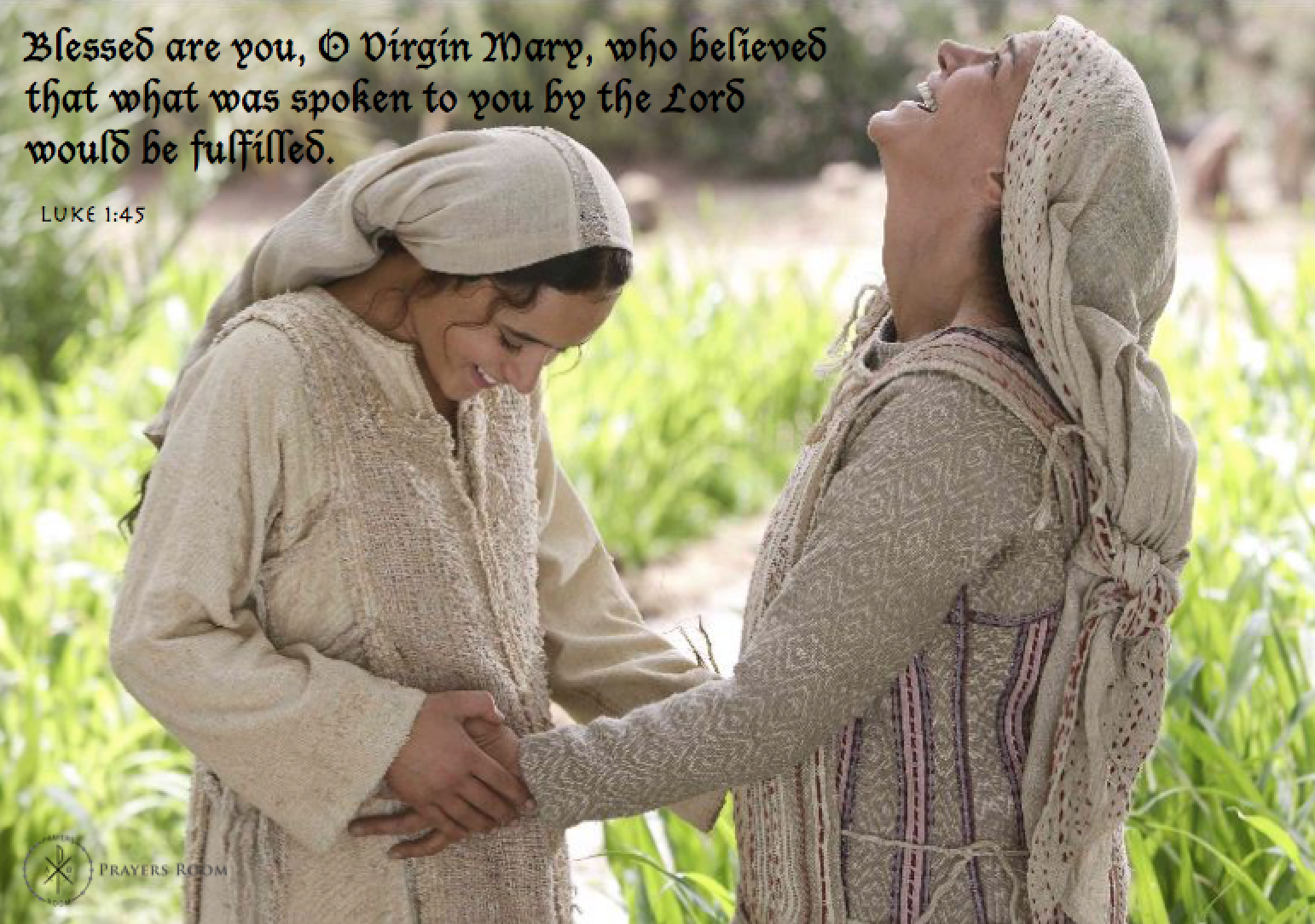 Monday 31 May 2021
First Reading: Zep 3:14-18a
Responsorial Psalm:
Among you is the great and Holy One of Israel.
Isaiah 12:2-3, 4bcd, 5-6
Gospel Reading: Lk 1:39-56
Today's Note: Feast of the Visitation of the Blessed Virgin Mary
Gospel Reading:
Mary set out
and traveled to the hill country in haste
to a town of Judah,
where she entered the house of Zechariah
and greeted Elizabeth.
When Elizabeth heard Mary's greeting,
the infant leaped in her womb,
and Elizabeth, filled with the Holy Spirit,
cried out in a loud voice and said,
"Most blessed are you among women,
and blessed is the fruit of your womb.
And how does this happen to me,
that the mother of my Lord should come to me?
For at the moment the sound of your greeting reached my ears,
the infant in my womb leaped for joy.
Blessed are you who believed
that what was spoken to you by the Lord
would be fulfilled."
And Mary said:
"My soul proclaims the greatness of the Lord;
my spirit rejoices in God my Savior,
for he has looked with favor on his lowly servant.
From this day all generations will call me blessed:
the Almighty has done great things for me,
and holy is his Name.
He has mercy on those who fear him
in every generation.
He has shown the strength of his arm,
he has scattered the proud in their conceit.
He has cast down the mighty from their thrones,
and has lifted up the lowly.
He has filled the hungry with good things,
and the rich he has sent away empty.
He has come to the help of his servant Israel
for he has remembered his promise of mercy,
the promise he made to our fathers,
to Abraham and his children for ever."
Mary remained with her about three months
and then returned to her home.
Reflection:
What does Jesus' parable about an absentee landlord and his tenants say to us? The hills of Galilee were lined with numerous vineyards, and it was quite normal for the owners to let out their estates to tenants. Many did it for the sole purpose of collecting rent. Why did Jesus' story about wicked tenants cause offense to the scribes and Pharisees? It contained both a prophetic message and a warning. Isaiah had spoken of the house of Israel as "the vineyard of the Lord" (Isaiah 5:7). Jesus' listeners would likely understand this parable as referring to God's dealing with a stubborn and rebellious people.

Jesus faithfully does his Father's will even in the face of severe opposition
This parable speaks to us today as well. It richly conveys some important truths about God and the way he deals with his people. First, it tells us of God's generosity and trust. The vineyard is well equipped with everything the tenants need. The owner went away and left the vineyard in the hands of the tenants. God, likewise trusts us enough to give us freedom to run life as we choose. This parable also tells us of God's patience and justice. Not once, but many times he forgives the tenants their debts. But while the tenants take advantage of the owner's patience, his judgment and justice prevail in the end. Jesus foretold both his death and his ultimate triumph. He knew he would be rejected and be killed, but he also knew that would not be the end. After rejection would come glory – the glory of resurrection and ascension to the right hand of the Father.

If we trust in the Lord our labor is not in vain
How do we share in this glory? By submitting to Jesus' kingly rule in our lives. Jesus promises that we will bear much fruit (certainly the fruit of peace, righteousness, and joy, and much more besides) if we abide in him (see John 15:1-11). The Lord also entrusts his gifts to each of us and he gives us work to do in his vineyard – the body of Christ. He promises that our labor will not be in vain if we persevere with faith to the end (see 1 Corinthians 15:58). We can expect trials and even persecution. But in the end we will see triumph. Do you labor for the Lord with joyful hope and with confidence in his triumph?
Thank you, Lord Jesus Christ, for all the benefits which you have given us; for all the pains and insults which you have borne for us. O most merciful redeemer, friend, and brother, may we know you more clearly, love you more dearly, and follow you more nearly, for your own sake! (Prayer of St. Richard of Chichester, 13th century)